DIGITAL ROOM BOOKING MANAGEMENT
Simple operation of control systems and door signs
The professional management of meetings is child's play thanks to the easescreen eSign software. For example, offices, hotel rooms, seminar and conference facilities, patient rooms or lecture halls can be updated at any time and managed in a time-saving manner.
Central administration of all rooms
Visually appealing templates
Saves time through the integration of calendar software
Digitale Türschilder und Raumbuchungsmanagement
How does easescreen eSign work?
The eSign server offers a web-based booking tool for the management of appointments, rooms and resources and supports 2-way synchronization to the following applications:
Microsoft Exchange
Google Calendar
Compatible with common database types and booking systems (CSV, XML, etc.)
We recommend the door signs from the manufacturers Qbic and ELO. Both integrate seamlessly into our eSign Server.
easescreen recommends: QBIC TD 1050
The Qbic Touch door signs can be used for interactive room reservations or service requests and integrate seamlessly into the eSign server. Red or green LEDs ensure good visibility of the booking status from a distance.
All door signs run on the Android operating system and support PoE. An NFC sensor is also integrated, which can be used to connect external systems (e.g. access controls) (integration on request), as well as a camera and a microphone. These components are not included in the Lite version.

easescreen recommends: ELO I-SERIES
The updated and upgraded Elo I-Series 2.0 for Android combines maximum reliability with integrated touch sensors and design for the highest demands. Available in 15.6 or 21.5-inch format in a slim design, optionally in black or white.
Elo displays run on the Android 7.1 operating system and are equipped with Wi-Fi, Ethernet and Bluetooth.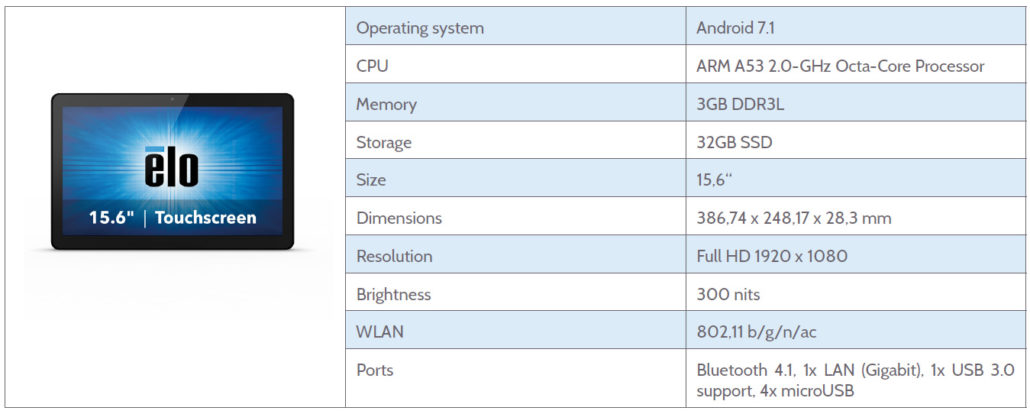 eSign eInk – digital, wireless door signs
Digital room signage based on e-paper-based hardware impresses with its high cost-effectiveness, since the maintenance and operating costs are kept very low.
The advantages:
Wireless version with battery
Up to 5 years of battery life
Easy installation, even on glass surfaces
Booking data via radio transmission
Individual templates / layouts possible
Efficient, central administration of the rooms
The digital door sign and your offices / meeting rooms are always up to date and can be used much more efficiently.