With Digital Signage and the easy-to-use software from easescreen, you can present your information anywhere in the world in any number of places while still enjoying significant advantages over traditional media.
Take full advantage of the Digital Signage potential
easescreen makes digital communication as simple and effective as never before. Out of the box or individually adapted: easescreen easily scales and adapts to all types of projects. Depending on your requirements, easescreen offers various licence packages.
easescreen

x.series – a new software generation!

Switch to Rolling Release
With the easescreen software version X.2106, we are switching operations to a rolling release plan. From now on, our customers will receive the latest features, security updates and bug fixes, all in the form of continuous rolling releases.
In combination with our Software Assurance plus package, your easescreen products are automatically always up to date: For even more operating comfort and the best user experience!
Zero Touch Deployment
Getting started with your digital signage project has never been easier: with easescreen, not only the creation of content is as easy and intuitive as you have never experienced before, also the configuration of the hardware components as now  as uncomplicated as it can get. Simply plug in – easescreen does the rest.

What is new?
Zero Touch Deployment / Plug & Play System Deployment
Cross-Platform-Widgets like simple integration of weather, social media channels, etc.
2-factor authentication for the Webinterface
And much more…
Webinterface
Simplified project management
LDAP for Single Sign On
2-factor authentication for even more security
Creation of individual dashboards
HTML5 Client
Cross-platform synchronization for simultaneous playlist output on different devices
HDMI IN / TV IN – can be activated time-controlled or interactively
More info about the new easescreen x.series
We have assembled all information about the new easescreen x.series for your reference below:

The new software version easescreen X.2106 is now available for download in the license portal!
DIGITAL SIGNAGE SOFTWARE PACKAGES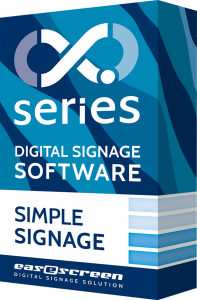 easescreen
SIMPLE SIGNAGE
Applications
Digital advertisement
Infoboard
Menuboard
Kiosk
---
Easy maintenance
Simple design
User Interfaces
incl. Screenmanager
Webinteface optional
Licensing model

buy / on premises

Functions and media

Pictures, text, video, web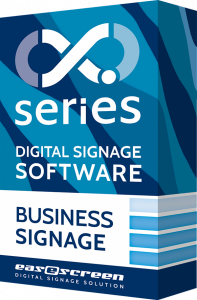 easescreen
BUSINESS SIGNAGE
Applications
Corporate TV
Information systems for
employees and customers
Digital bulletinboard
Welcome- and advertisement screens
---
Easy maintenance
Simple design
User Interfaces
incl. Screenmanager and Web CMS
Webinterface optional
Licensing model

buy / on premises
Media and content

Pictures, text, video, web
PDF, PPT, music,
dynamic data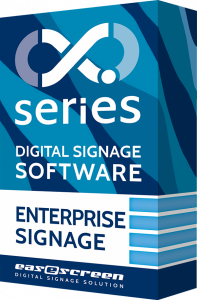 easescreen
ENTERPRISE SIGNAGE
Applications
Interactive and dynamic systems with a high
degree of automatization in
retail, transportation and corporate sector
Cross-site digital-signage networks
Wayfinding systems, DOOH
---
System Management
User Interfaces
incl. Screenmanager and Web CMS
Webinterface optional
Licensing model

buy / on premises
Media and content
Pictures, text, video, web
PDF, PPT, music,
dynamic data,
streaming, RSS feeds,
Interactivity
Triggers
Sensors
Everything, just the way you need it

This is guaranteed by the concept of easescreen, which allows you to quickly and safely carry out and integrate individual adaptations to your specific needs – even if you want to receive and display data from "third-party devices" or read and process information from databases.
Format variety incl. TV
Immediately ready for use without previous conversion
Format variety incl. TV – 170 different media formats ready to play.
With easescreen, all popular digital media files can be immediately added to your playlist – from PowerPoint presentations (no Microsoft PowerPoint license required!), Pictures and films to PDFs and websites. A list of all supported file formats can be found here:
Supported file formats
easescreen supports popular TV formats (DVB-T, DVB-S, various IP-TV systems), which can be displayed at any point.
Simple operation
No lengthy training needed
The big advantage of easescreen lies in its ease of use. This is effortless for any user with knowledge of Windows. All playlists and playback layouts can be created by yourself thanks to the clear and intuitive interface.
Network - Updating
Up to date in no time
Easescreen makes it easy for you to transfer content and schedules at the click of a mouse. Routine settings and updates can also be performed via the web interface (integrated HTTP server).
Preview function
Always accurate
You have an exact overview at all times, because the preview and screenshot function of the screen manager allows you to have a completely identical preview of what will be displayed or is being displayed on the POV (Point of Visualization).
Protocol function
Everything under control
Checks and documentation are possible with easescreen at any time. Each POV stores all playout and status information as the basis for billing or service.
Free layout
Creativity and ideas are unlimited
With easescreen you are completely free to easily design your screen layout. You are not bound to any templates. The selection of pre-generated screen layouts is always open to you. Previously created layouts can be saved and reused if necessary. Each screen layout can be divided into any number of "sub-screens" and "free windows" to which any playlists (webpage, movies, TV images etc.) can be assigned.
Layouts from a word processor of your choice and templates can be automatically or manually filled with your current parameters (for example, a welcome page for guests).
Authorization level
Everyone gets their own access
easescreen allows the definition of any number of levels for the separation of layout and content or for the allocation of editing permissions to any number of people, groups or departments.
This means that organizational and legal separate schedules can be created independently of one another, which can then be mixed together automatically into a common playlist in the actual display according to given rules.
Interaction
As you wish
Easescreen's interactive software can respond to both input from people (e.g., touch screen) and external trigger events (e.g., sensors, network thresholds, temperature, etc.). Switching from stored display contents can thus be triggered automatically.
Control output devices
Perfection included
easescreen has been specially optimized for all types of electronic displays and thereby ensures reliable turn-on, switch-off and / or automatic monitoring of the terminals (displays, players).
Multiple monitors
All good things come with more
With the appropriate hardware features, easescreen can simultaneously supply multiple output devices with content from one player. Independent playlists per screen and the connection of multiple screens to a large display area can therefore be realized.
No expensive servers necessary
That saves costs
The players are operated in smaller easescreen networks directly through the screen manager which can be installed on several workstations. The contents of the players can be edited by several screen managers according to the rules of the rights management thereby saving you costs and trouble.
In larger easescreen networks, the use of the easescreen management server software is recommended.
Large Networks
The right solution for every requirement
For large networks, we recommend the easescreen management server software. In addition to the fully automated communication with the individual players, comprehensive monitoring and reporting functions are thus made available.
Simple maintenance and installation
This is also important
With easescreen you have a highly integrated program package that is proven to be very easy to install, maintain and upgrade. A typical client installation does not take more than 30 minutes! Updates and upgrades can be carried out over the network.
Simple requirements for the POV clients
The requirements are practically zero
The only requirement for the easescreen player is the operating system Windows.
eSign is easescreen's innovative solution for room booking and resource management. The easescreen eSign-Server provides a web-based booking tool for the administration of rooms and resources. eSign Touch door signs support the 2-way-synchronisation and the automatic import of booking information (Microsoft Exchange/Outlook, Google Calender, and many more) and they are compatible to all established types of database and booking systems (CSV, XML etc.).
Interactive digital door signs and welcome boards
Easy room booking and administration via web browser
Integration of door signs based on Android, eInk,WinCE& Linux
Interfaces toMS-Outlook & 3rd partysoftware(.xml, .xsl, Google Calenderetc.)
Preview functionality
PLATFORM-INDEPENDENCE WITH THE HTML5 CLIENT
With the HTML5 client, easescreen is completely cross-platform and compatible with all relevant output media:
Displays, Monitors, Tablets, Smartphones & iPhones
Without a native app, the HTML5 client runs on any browser that displays HTML5.
Let yourself be inspired by clever digital signage solutions implemented with easescreen